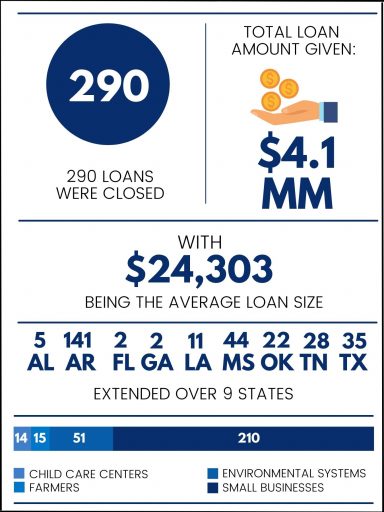 Some groups were overlooked when the CARES Act was first passed. The Consolidated Appropriations Act, 2021, followed and included additional funding for the Paycheck Protection Program (PPP). Changes were made to guidelines to impact those with the greatest need. Then the PPP Extension Act of 2021 was passed, extending the deadline of the Paycheck Protection Program, or until funding was no longer available. Communities Unlimited (CU) made 290 PPP loans totaling over $4 million to childcare centers, water and sewer systems, small-scale farmers and small businesses in nine states.
Moma Keta's Childcare is in Pine Bluff, Arkansas. Makethia was determined to keep Moma Keta's doors open. Makethia decided that the struggling parents that counted on her for childcare and the four employees that depended on her for a paycheck were more important. She chose not to take a salary, so she could pay her employees and keep the doors open. Communities Unlimited started reaching out to the Arkansas Childhood Association to help daycare owners in Arkansas. Makethia received $7,040 in a forgivable loan under the PPP program.
Cherry Tree Rural Water District (RWD) in Stilwell, Oklahoma, saw an approximately 40% reduction in revenues because of COVID-19. The revenue loss was primarily because of the early closing of schools in the middle of March 2020 and the loss of jobs, with 90% of the households served are members of the Cherokee Nation and the system already in a persistent poverty county. Cherry Tree RWD is working with limited staff, one full-time office clerk, and one full-time water operator. The office clerk has had regular video conferences with CU staff to determine the best course of action in unprecedented times. Cherry Tree RWD district learned from CU that they were eligible for the PPP Loan and applied and received $30,730 to aid them in continuing to provide safe, clean drinking water to their customers.
Calvin Head is the Director of Mileston Cooperative, a Black-owned farm cooperative in Tchula, Mississippi. An entity had advertised the PPP loan to the cooperative. They required the farmers, most of whom do not have computers or broadband, to upload their documents to a portal. There was no one to assist them and answer their questions. The farmers became frustrated and said, "forget about it." CU stepped in and offered an alternative, a person rather than a portal. Someone to answer questions and assist in preparing documents.
Allison Bruning and her husband Delfin Espinosa started Academic Warriors, an online private school for children with learning disabilities and/or who are on the autism spectrum or have ADHD. Allison and Delfin had applied when the first and second rounds of PPP loans opened but were told they didn't meet the requirements. Academic Warriors has experienced many difficulties since the beginning of the COVID-19 pandemic. They ended up having to let all of their teachers go. A representative from US Small Business Administration (SBA) emailed Allison letting her know that because of the changes to guidelines, Academic Warriors may now qualify for a PPP loan and gave Amanda the contact information for Communities Unlimited. She applied and was approved. The funds allowed Academic Warriors to pay teachers, replace equipment and help cover operating expenses.